Small Business and Federal Contracts obligated

It's National Small Business Week and we thought it would be a great time to take a look at what is happening in the world of government contracts, specifically with small businesses.
We kick off the week to celebrate contracts awarded to small businesses this government fiscal year. This leads straight to the question of what classifies as a small business? The US Small Business Administration states in order to qualify, a firm must satisfy "SBA's definition of a small business concern", which applies size standards to a firm's core competencies based on it's primary NAICS Code. These size standards limit the size a company can be in terms of the total number of employees or it's average three-year trailing revenue, to qualify as a small business for a federal contract award. This period for calculation of annual average receipts is in the process of being changed to five-years. While the rule is in the process of being implemented into SBA's regulations businesses will continue to report their annual receipts based on the three-year average.
All calculations of dollars obligated to small business are based solely on a contracting officer's determination of which appropriate size standard applies for the business to be considered small for a given transaction only at the time of award.
So let's look at the total contracts awarded in FY 2019. As of 05.05.2019, a meager $42.16B was awarded to small business firms from a total federal spending amount of $238.88B. That equates to just 17.65% well shy of the government's annual goal of 23.2%. However, expect this percent to increase two-fold as we approach the end of FY 2019 on September 30th. While this figure may appear lower than what most people would expect to see, it is chiefly because DoD delays reporting its contract awards into FPDS-NG for up to 90 days, and this skews expectations. See our blog from March 2019 for small business spending from previous years.
Alright, it's time to dig in and look at some of the agencies who have awarded small business contracts. The following table is sorted by dollars obligated in the Small Business column:
Kudos to defense agencies, the Department of Veterans Affairs and Homeland Security for obligating more than 30% of the their contracts to small businesses. Of course you want to see the full report as of today, don't you? Click here.
While we see increase in small business dollars obligated, you might wonder what is happening with Small Business set-asides? FY 2018 saw a sharp decline in the small business set-asides, falling below $25B for the year.

Now let's look at which industry sectors are garnering the most set-asides. The Top 3 NAICS codes - Computer Related Services, Computer Systems Design and Engineering Services account for $8.47B of the total $42.16B awarded as small business contracts.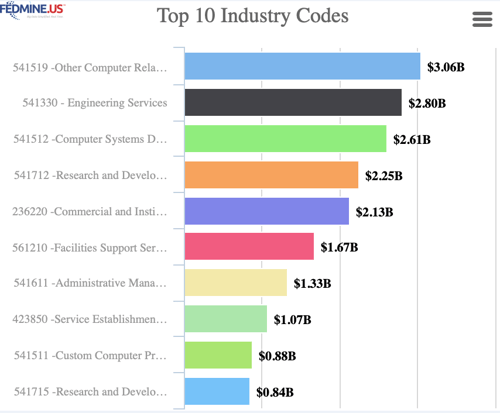 Every year new businesses get awarded contracts for the first time - we call them the "First Timers". So far in FY 2019, YTD, a total of 2,974 first-timers won small business contract awards. Compare this with 10,686 companies in FY 2018 well below the 13,278 companies in FY 2017. Now that says something!

(click on image to see the top first-timers)
Tomorrow we will review the top companies winning small business contracts - will you be surprised? Stay tuned!