Federal Data on Coronavirus (COVID-19) - Part 9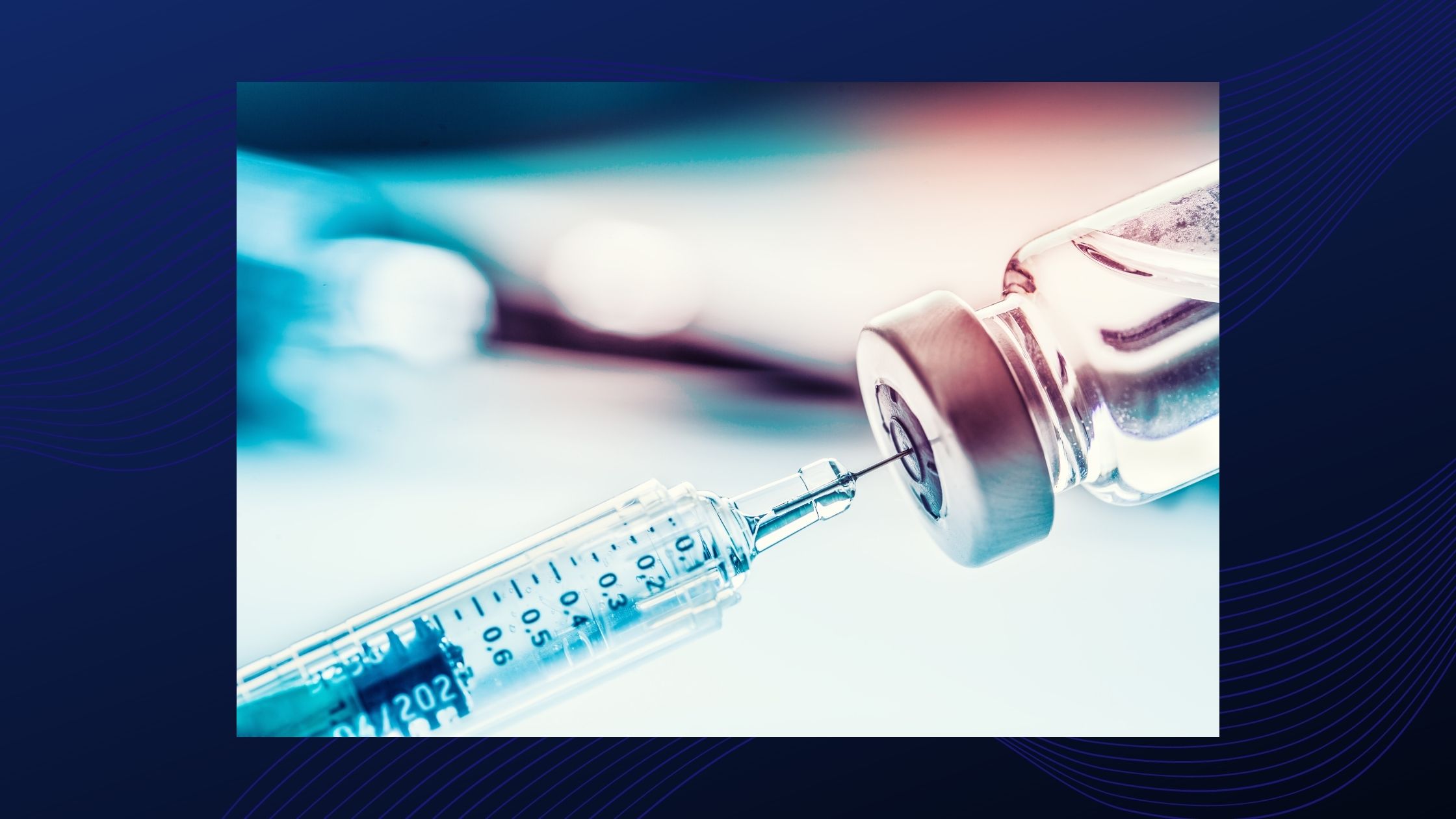 Happy New Year! We made it to 2021. The pandemic continues, but we have at least arrived at the new year with approved COVID vaccines 🙌 and distribution underway.

It's crazy to think that we are now less than 2 months away from 1 full year of the pandemic - how much our lives have changed.


As always, I've linked the previous posts from this series below so you can get caught up.

Part 1 | Part 2 | Part 3 | Part 4 I Part 5 I Part 6

I

Part 7

I

Part 8

We now should have all of the finalized numbers from FY20 in for review. (Looking at you - 90 day delayed DoD contracts😉).

Here's how things shaped up.

The total federal revenue reported for FY20 was $686.1B. This is over $90B more than FY19 spending. Wow.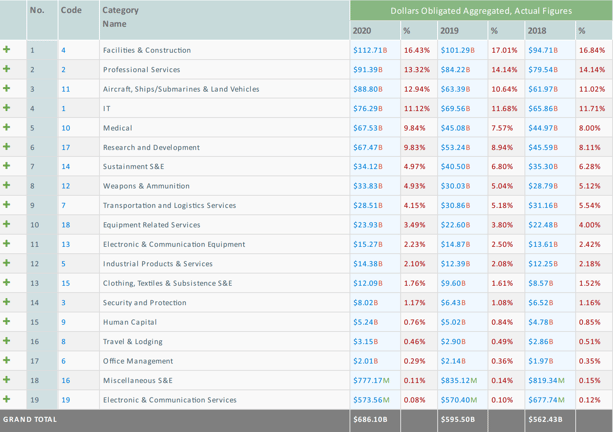 Data as of 1/15/2021, Source Fedmine
Looking at the breakdown by Category; 8 out of the top 10 Categories increased from FY19 to FY20. The top Categories that saw an increase in spending were Aircraft, Ships/Submarines & Land Vehicles and Medical. Medical spending alone jumped over $22B.
Speaking of medical, what was the overall Covid-19 spend for FY20 (using the NIA Code P-20C)? The total came out to $34.10B. This spend went to 9,807 companies. The top agency remained HHS with close to 40% of the total spend at $13.19B. 32.7% was awarded to small businesses.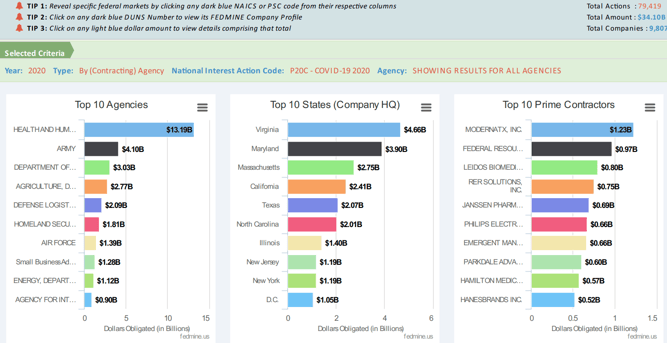 Data as of 1/15/2021, Source Fedmine
Before I dig into the top contractors and NAICS for these P-20C contracts let's check out the total federal expenditures comparison from FY19 to FY20 for HHS. HHS spend increased over $14B in FY20. The top Bureau within HHS was The Office of Assistant Secretary for Preparedness and Response. This Bureau spend increased by almost $11B for FY20.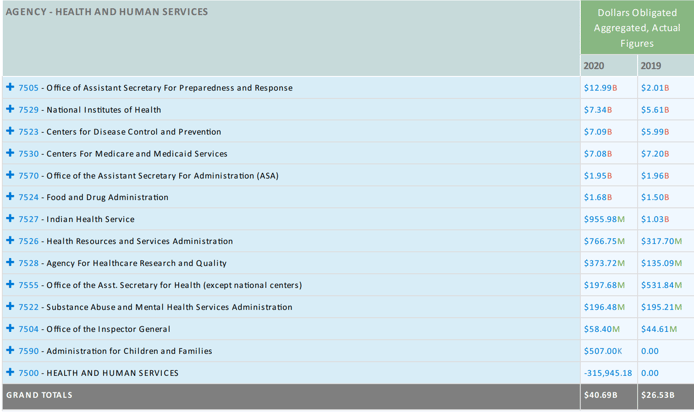 Data as of 1/15/2021, Source Fedmine
Ok, so back to the Covid related contracts.
If we look at the NAICS for the P-20C contracts the leading NAICS is 423450 - Medical, Dental, and Hospital Equipment and Supplies Merchant Wholesalers. Out of the top 10 NAICS for these Covid contracts, 6 are medical/research related. The majority of these contracts had did not utilize a set-aside status.

Data as of 1/15/2021, Source Fedmine
The top contractor for FY20 is a company called Modernatx, Inc. (aka Moderna) with $1.225B awarded. We all know what this is for - the Moderna m-RNA covid vaccine. Moderna jumped to the leading prime contractor in August, 2020 when the Army ordered 100M vaccine doses for $1.23B.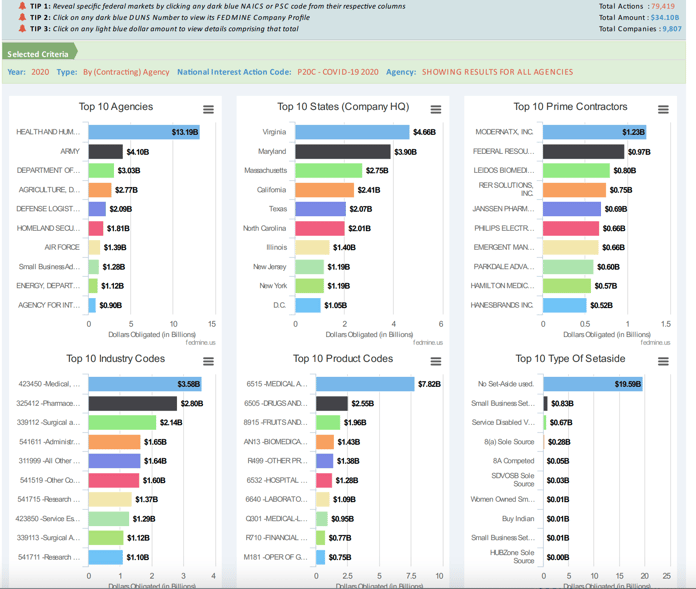 Data as of 1/15/2021, Source Fedmine
This got me thinking about the other leading company with a Covid-19 vaccine - Pfizer. Where were they in these awards?
I used Fedmine's SuperSearch and did a broad keyword search for "vaccine". The results are organized by document type and in chronological order. I found an Award Notice from December 23rd, 2020 to Pfizer for over $10B from the DoD/Army. This award is for production of the Covid-19 Vaccine. The reason this award has not come through on my FPDS alerts yet is due to that infamous DoD 90 day lag. I'm sure as FY21 continues there will be even more procurements of these vaccines.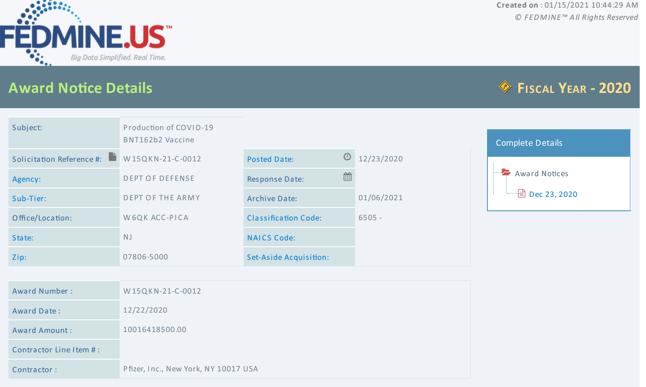 Data as of 1/15/2021, Source Fedmine
Remaining in SuperSearch I wanted to try and see what's out there for "operation warp speed". My search results can be seen below. There have been 28 contracts awarded. A few sources sought and other procurement notices are listed with 3 Award Notices.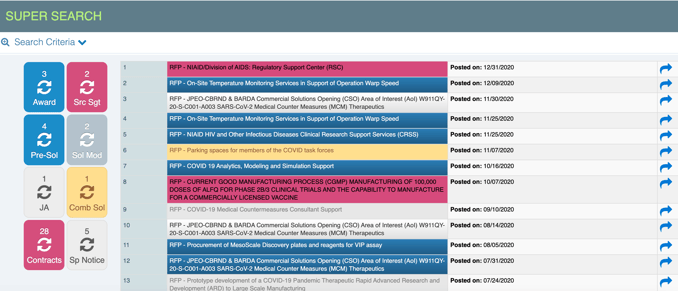 Data as of 1/15/2021, Source Fedmine
Another one of Fedmine's 17 sources is the FAADS database. This source shows federal grants data. I ran a search for 2020 using the keywords "covid" and "sars". There were over $2.4B awarded in grants that utilized these keywords via 2122 transactions to 1,586 companies. Check out those Grants awards HERE.
The last report I want to check out is the subcontracting numbers. For FY20 using the NIA P-20C code for subcontracting the total amount awarded was $2.13B. 1,215 companies were awarded subcontracts on a contract that utilized this National Interest Action code.
Data as of 1/15/2021, Source Fedmine
Looking at the subcontracting numbers the top NAICS here was 541330 for Engineering Services. The top agencies look very different from those in the general contracts search for these covid contracts. It just goes to show that all agencies have been impacted by this pandemic.
There are so many ways to look at the federal contract award data using Fedmine. When you combine the Covid contract awards numbers with the federal grants numbers for FY20 it is actually quite staggering (over $36 Billion).
We have made it through 2020 and what a profound year it was. Here's hoping that things get better and brighter in this New Year with the vaccines' arrival and distribution. 🙏
*contract awards do not fully account for DoD FPDS-NG awards as they have not yet been reported due to 90 day lag