Federal Data on Coronavirus (COVID-19) - Part 6
Welcome back to Part 6 of my blog series, "Federal Data on Coronavirus (COVID-19)".

Since my last post, we've surpassed some significant milestones for COVID-19 cases. On May 21st, reported cases exceeded 5 million worldwide and the US has reached over 100,000 deaths - just staggering numbers.

As always, I've linked the previous posts from this series below so you can get caught up.

Part 1 | Part 2 | Part 3 | Part 4 I Part 5

Since my last blog post on May 15th, there have been an additional $3.05 Billion federal contracts awarded under NIA Code P20C! In less than one month! This brings the overall total in P20C contracts awarded to $15 Billion.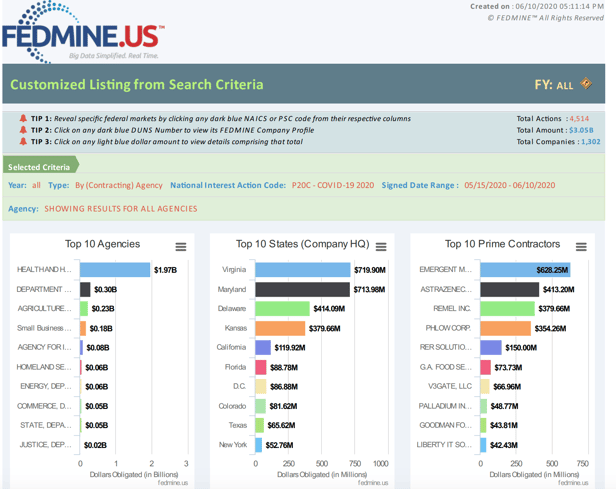 Let's have a closer look at what's happened since my last post. 1302 companies have been awarded $3.05B. The prime contractor with the biggest award is Emergent Manufacturing Operations Baltimore, LLC. Emergent works solely with the HHS and was awarded $14M in early April to develop a COVID therapeutic using antibodies. This new award totals $628M. The project description reads "EMERGENT CIADM MANUFACTURING CAPACITY RESERVATION AND EXPANSION". I had to Google what CIADM means and it's essentially Emergent's Center for Innovation in Advanced Development and Manufacturing. The CIADM facilitates advanced development of chemical, biological, radiological, and nuclear (CBRN) medical countermeasures and ensures domestic manufacturing surge capacity to address the U.S. government's preparedness priorities and needs (taken from Emergent's website). I found it really interesting to learn that Emergent's CIADM has been awarded task orders in the past to develop Ebola therapeutics and a Zika vaccine.
$131M of these were awarded as an SDVOSB set-aside. The largest of these SDVOSB awards went to a company based in Colorado called V3GATE, LLC. V3GATE has a very diverse federal portfolio and works with all major agencies, but 75% of their federal revenue comes from the VA. This specific contract was awarded from the VA using NASA SEWP V. Totaling almost $67M, this contract is to purchase laptops in support of telework for COVID-19.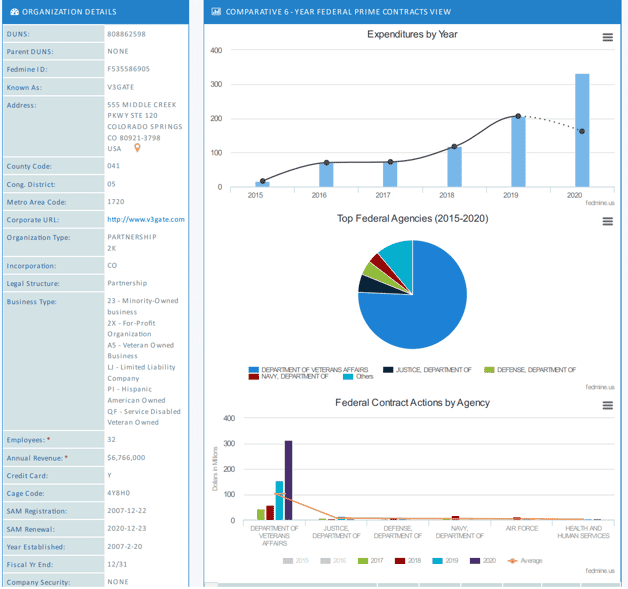 One of Fedmine's 17 data sources is ESRS where we get subcontractor information. Recently we added a way to search within Fedmine for the prime contracts that have been awarded using a National Interest Action code and also have subcontracts awarded.

$325.5M has been awarded to 322 companies thus far for subcontracting work on prime contracts that are using NIA Code P20C. It's great to see another way the Fedmine team is being agile in adding new features for our clients. It is useful to see how may subcontractors are performing work under these NIA prime contracts.
That wraps things up for Part 6 of my blog series, thanks for reading along with me 😀.
*contract awards do not fully account for DoD FPDS-NG awards as they have not yet been reported due to 90 day lag