Federal Data on Coronavirus (COVID-19) - Part 5

How's everyone doing out there? Can you even believe it?
We are now rounding out 2 solid months of being home and our lives forever changing. I have a hard time wrapping my head around the impact COVID-19 has had on each and every one of us. And it only continues...
If you are just joining this blog series - I have been reporting on federal data related to coronavirus since early March. I've linked my previous posts below so you can get up to speed on where we started and where we now are:
Part 1 | Part 2 | Part 3 | Part 4
There are now over $10B in COVID-19 contracts that use the P20C NIA code (insert wide eyed emoji: 😳). FY20 federal data will certainly be an outlier when we review and compare federal spending year over year. No doubt that FY21 will also be impacted.
Here's a summary of the top agencies, states of company headquarters and prime contractors winning these P20C awards.

Source: Fedmine as of 05/13/2020
The graph summaries also show the breakdown by Place of Performance states and I didn't know what to think but I wondered if there would be a correlation of hardest hit states (New York for example) and performance of these contracts. New York is in the top 3, but the state of Georgia has been awarded the number one spot with $2.16B.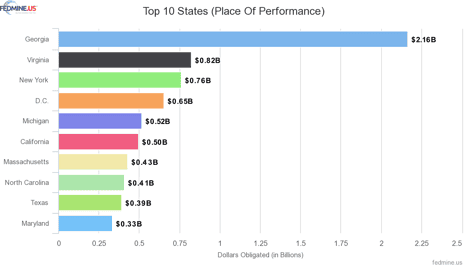 Source: Fedmine as of 05/13/2020
HHS remains at the top of agencies awarding, but this is the first I've noticed SBA to be listed in the top 5.

Source: Fedmine as of 05/13/2020
Being that it's May and "Small Business Month", I wanted the focus of this blog update to be looking at the small business COVID awards specifically, so this ties in nicely!
I clicked into SBA to get a look at what COVID contracts they have awarded. The SBA awards have so far gone to 44 companies and total $467.84M.
Out of that $467M in awards one that stood out to me is to an 8(a) firm out of Virginia, RER Solutions, Inc. RER Solutions have secured a $300M contract to help the SBA determine the small business loan recipients during the COVID-19 pandemic. They also were awarded an additional $60M in other SBA contracts for data analysis services to analyze data and provide recommendations to the agency's loan program. Pretty nice awards for a small business!
According to their SAM registration, RER Solutions, Inc. has 23 employees. How will these contracts impact RER's growth? How long will they remain a small business?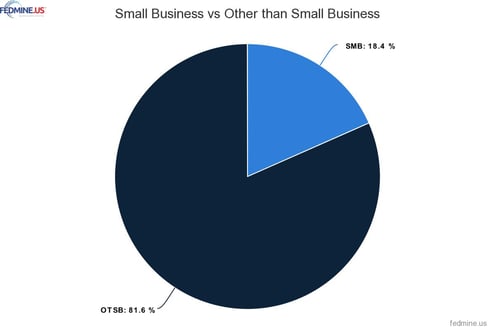 Source: Fedmine as of 05/13/2020
18.4% of all COVID-19 awards (using NIA Code P20C) have gone to small businesses. When I refine the data from my original search and only look at small business awards, almost $2B has been awarded to small businesses so far. The Department of Veterans Affairs now becomes the top agency awarding these contracts with $627.39M awarded. .
I thought it would be interesting to compare the small business sales from last year to the same point in the year as that of this year. The numbers are hard to compare I realized because of the 90 day DoD lag in reporting. By this date of last year there had been $63.85B awarded to small businesses. So far, this year we are at $46.18B - but that number is missing 3 months of DoD awards. I wanted to see if this year's awards amount would be higher and wondered if we could equate that to the unexpected pandemic.
Check back with me in 3 months and we can find out!😉
*contract awards do not fully account for DoD FPDS-NG awards as they have not yet been reported due to 90 day lag