Relating Federal Data to Coronavirus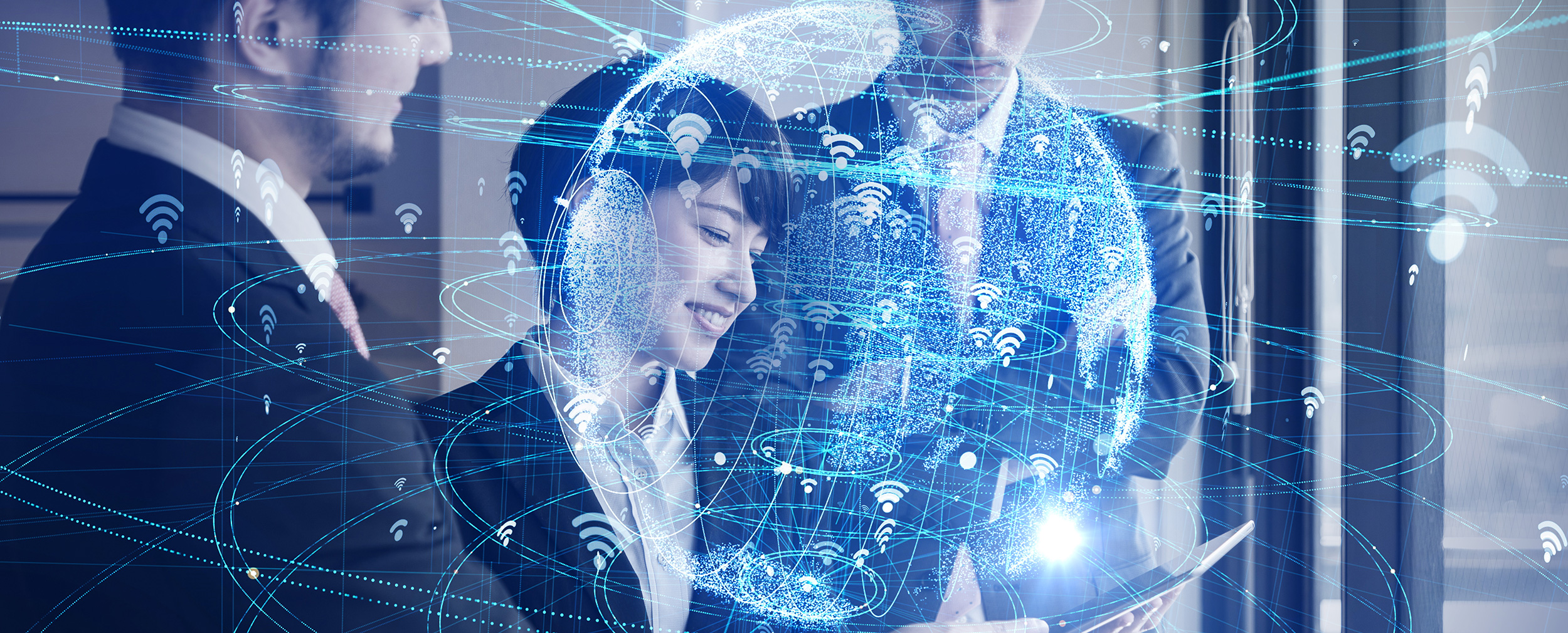 Over the last weeks we've been hearing about the coronavirus and have been watching and waiting as the news develops. Today it seems the undeniable reality is that a worldwide spread of this virus is inevitable. It's all that we hear about on TV, radio and is in every headline and news article. The CDC's Director was quoted as saying, "it's not a matter of if, but when" and warned that the public should prepare for a potential pandemic.
This article notes that the CDC and the White House are putting forth $105M in initial efforts to respond to the outbreak.
With all of this corona talk it got me thinking - how can we use Fedmine to find related information? What conclusions can we make?
Let's check it out.
Super Search
Fedmine's Super Search is what we like to call the "Google" of Fedmine. It searches within numerous types of federal documents (from 2004 to present) ranging from contract requirements, procurement descriptions, and Exhibit 53 & 300 details. Super Search is a great starting point for any market research efforts, in fact, many of Fedmine's federal agency customers are utilizing Super Search as a first touch when they login to perform market research.
For my Super Search, I used the keywords "coronavirus" and "COVID-19" and got 110 results. Many are from before this winter and made me realize that there are numerous other strains of coronavirus that are not new - it's the COVID-19 that we want to be tracking.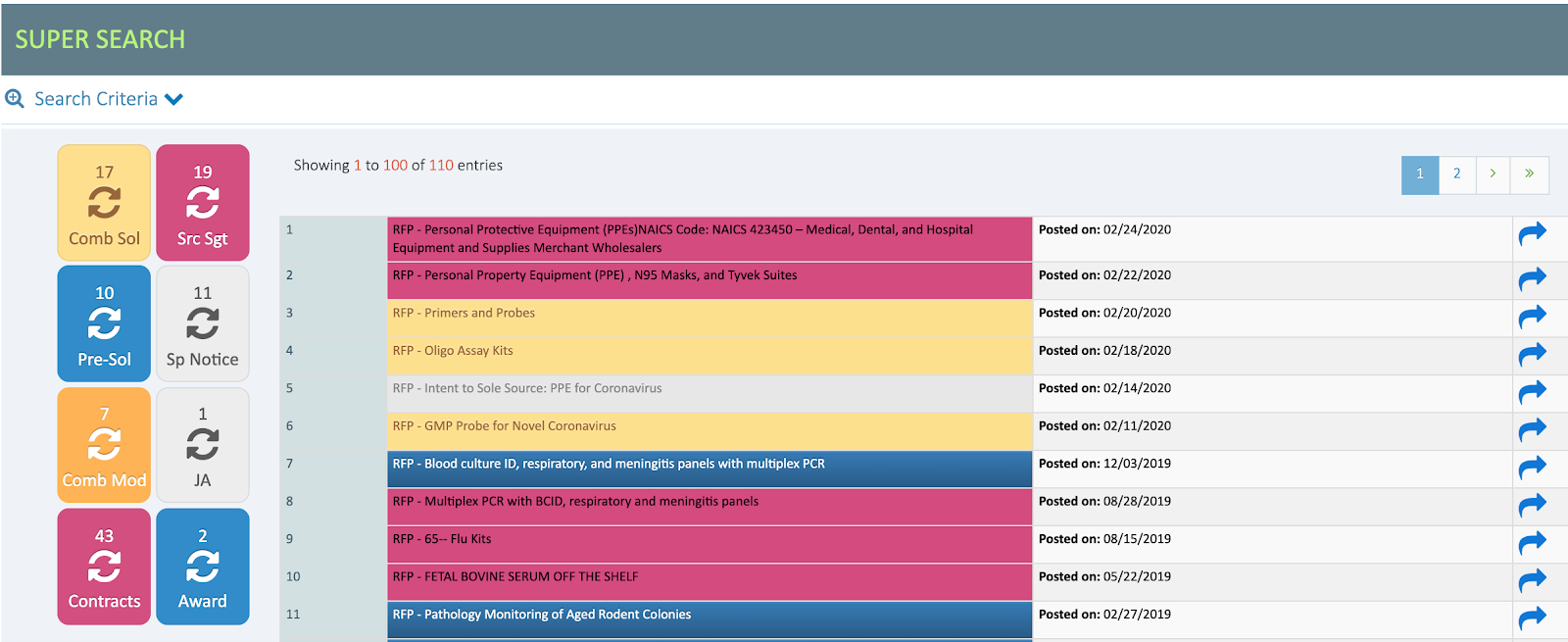 If I use the time period of December 2019 to today, there are 27 results that populate in my Super Search. The search output allows you to view the results by type so you can easily sort and refine the data to find what you are looking for.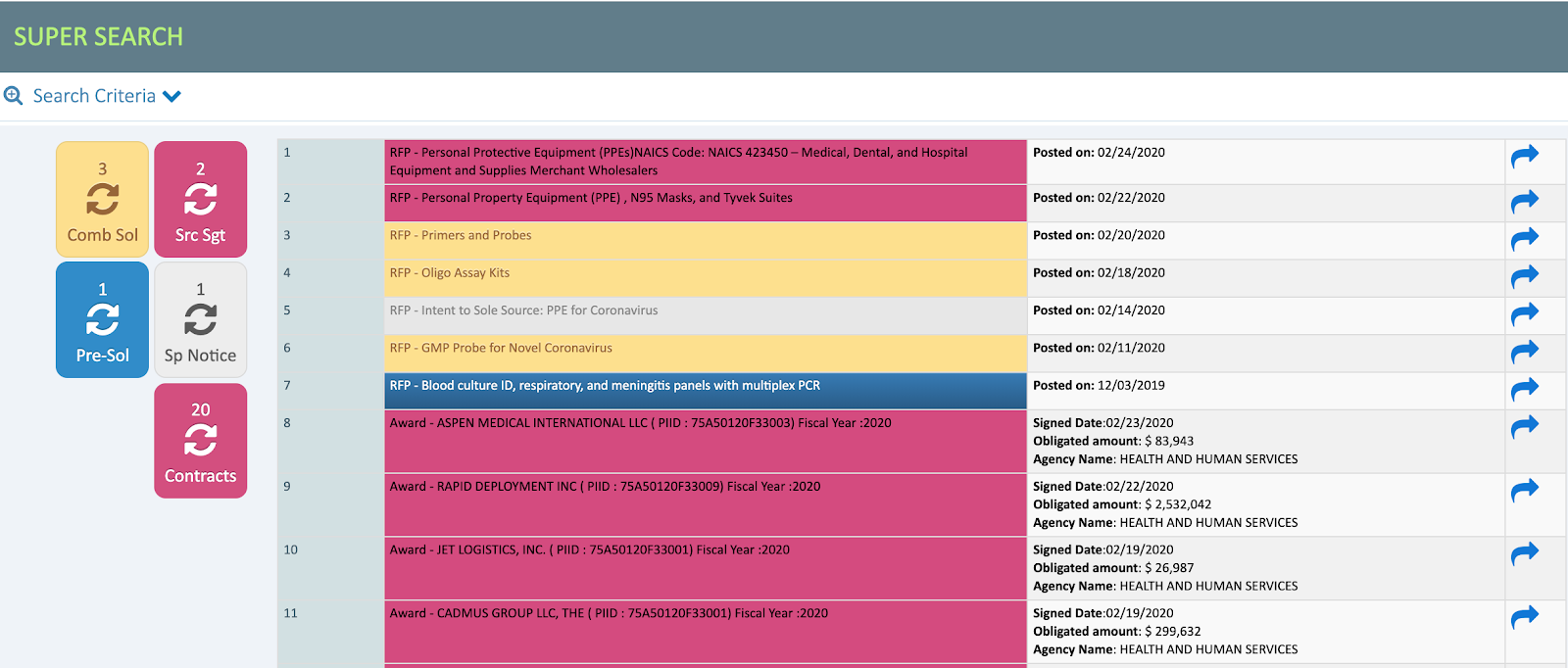 My results from the last 3 months provided 3 Combined Solicitations, 2 Sources Sought, 1 Pre-Solicitation, 1 Special Notice and 20 Contract Awards. I can now comb through these results and learn more about the trends and what's been released (publicly at least) related to coronavirus.
I clicked on the first Sources Sought Notice that came out on 2/24/20 from Health and Human Services, Office of Assistant Secretary for Preparedness and Response. This notice is for information about the wholesale amount of health equipment (such as masks, respirators, Tyvek Suits, etc.). Here is the Request for Information description:
The purpose of this synopsis is to gain knowledge relative to NAICS 423450 – Medical, Dental, and Hospital Equipment and Supplies Merchant Wholesalers. Responses to this synopsis will be used by the Government to make appropriate acquisition decisions.
The government is interested in attaining your current and projected inventory levels for PPE items such as NIOSH approved and/or FDA cleared N95 Respirators, Surgical N95 Masks, Coveralls, Tyvek Suits or equivalent Coverall, Gowns, Non-Splash Goggles, and Face Shields. We are requesting information in the attached spreadsheet to assist with the government's response to the current coronavirus (COVID-19) outbreak. The information that you provide will allow the government to assess the current health care industry inventory posture given the increase in customer demand and the probable effects on the commercial supply chain and distribution network affecting these items. The government is interested in the current and future manufacturing capabilities, locations of manufacturing and raw materials, and an outlook on the industry. Please provide any additional information that you feel may be of interest to the Government when reviewing responses to this request.
The Government is planning solicitations for immediate coronavirus response needs, as well as making assessments for longer term needs, likely up to 5 years, for these PPE items. The Government is interested in assessing overall availability as well as encouraging domestic production and availability. As stated above, no solicitation(s) is/are available yet.
You can see that my keywords have been highlighted as this is a standard feature within Fedmine to show the keywords for an easy way to locate where they fall within your results.
So now we know the small general scope of what's been released thus far related to our topic of coronavirus and COVID-19. We can run individual RFP and Contract searches as well to get the results pertaining to our topic. The reason to do this would be if I'm interested in receiving auto alerts in real-time. I would save one of those searches and turn my alerts on. If there are new contract awards or solicitations that come out pertaining to my saved criteria I will now receive an email alert. Fedmine alerts are great because they are automated and will keep you current on federal data when you need it most.

Contract Search
I used Fedmine's Contract Search with the same criteria and here's a summary of my results. There's been over $4M in contract awards to 13 companies. It's no surprise that the main agency awarding these contracts is the Department of Health and Human Services, however, I wanted to learn more about what was awarded from the Department of Veterans Affairs.
Fedmine's graphic results are all interactive and this made it very easy for me to refine my data. I clicked on the Department of Veterans Affairs and it reduced the results to one contract for $146k with a company called Biofire Diagnostics, LLC. The contract is to procure bio test kits for coronavirus. It came out on GSA Schedule 65 V II making that solicitation not publicly available to those not on that Schedule. This made me realize that the federal market for coronavirus is actually much larger than the public data available to me. After reviewing the contract, I looked into the Biofire Diagnostics, LLC. Fedmine Company Profile. The VA is their largest federal customer and their federal sales show steady growth over the years. They are a very large firm with over 8,000 employees.
Back to my contract search results. A company called Rapid Deployment, Inc. has the largest amount of contract award dollars in the amount of $2.76M. You can see they have won support contracts from the Center for Domestic Preparedness (CDP) for the coronavirus emergency response, all starting in February 2020.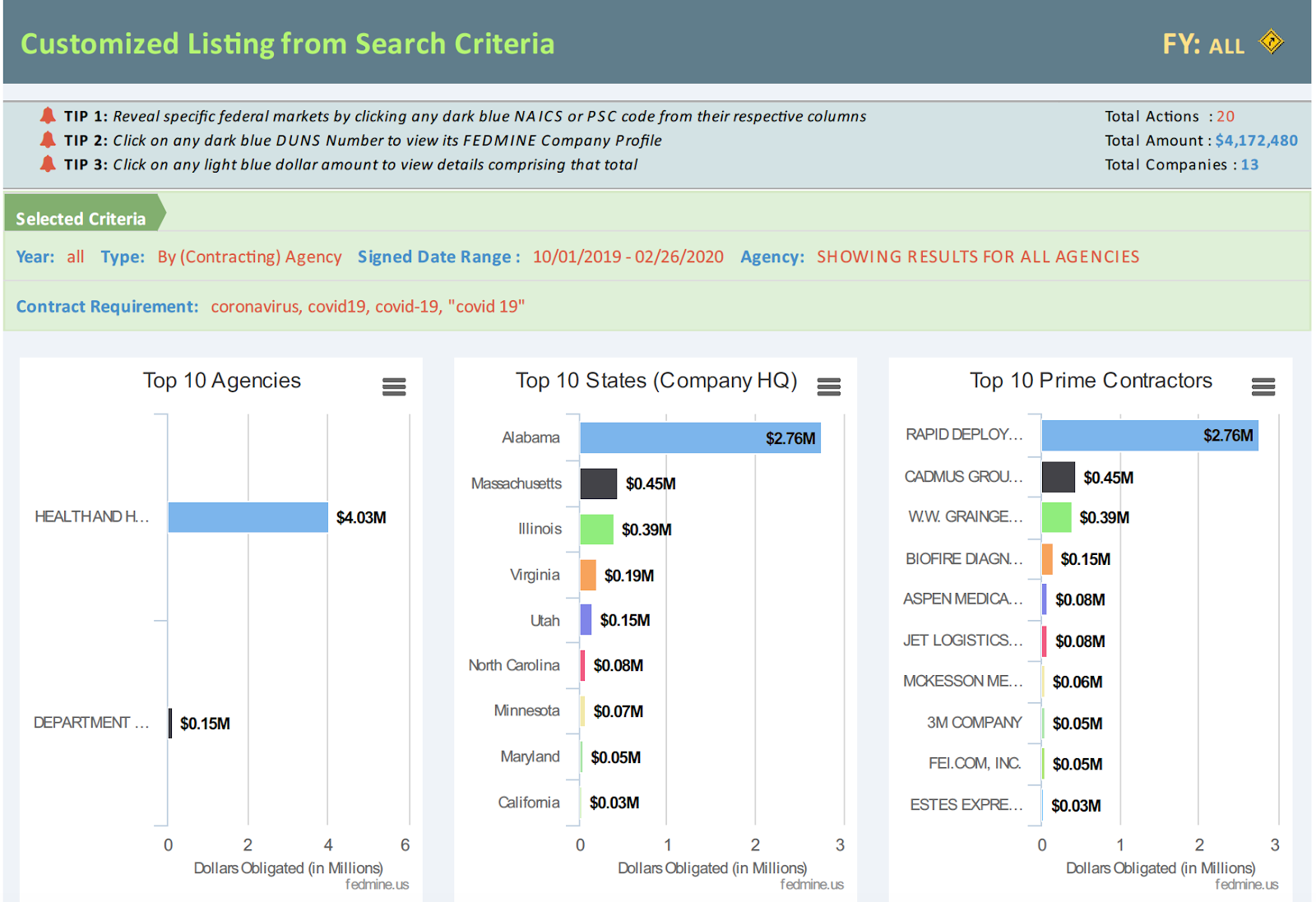 I clicked on the largest contract from the list of transactions. From this transaction screen you can see all the details with the important dates, place of performance, contract requirement, what NAICS and PSC codes were used and we've even linked the original solicitation. This procurement is for emergency preparedness and came out back in April of 2019. It made me appreciate that the federal government is being proactive and laying some groundwork to make sure things are prepared and in the works before the elevated virus season takes place.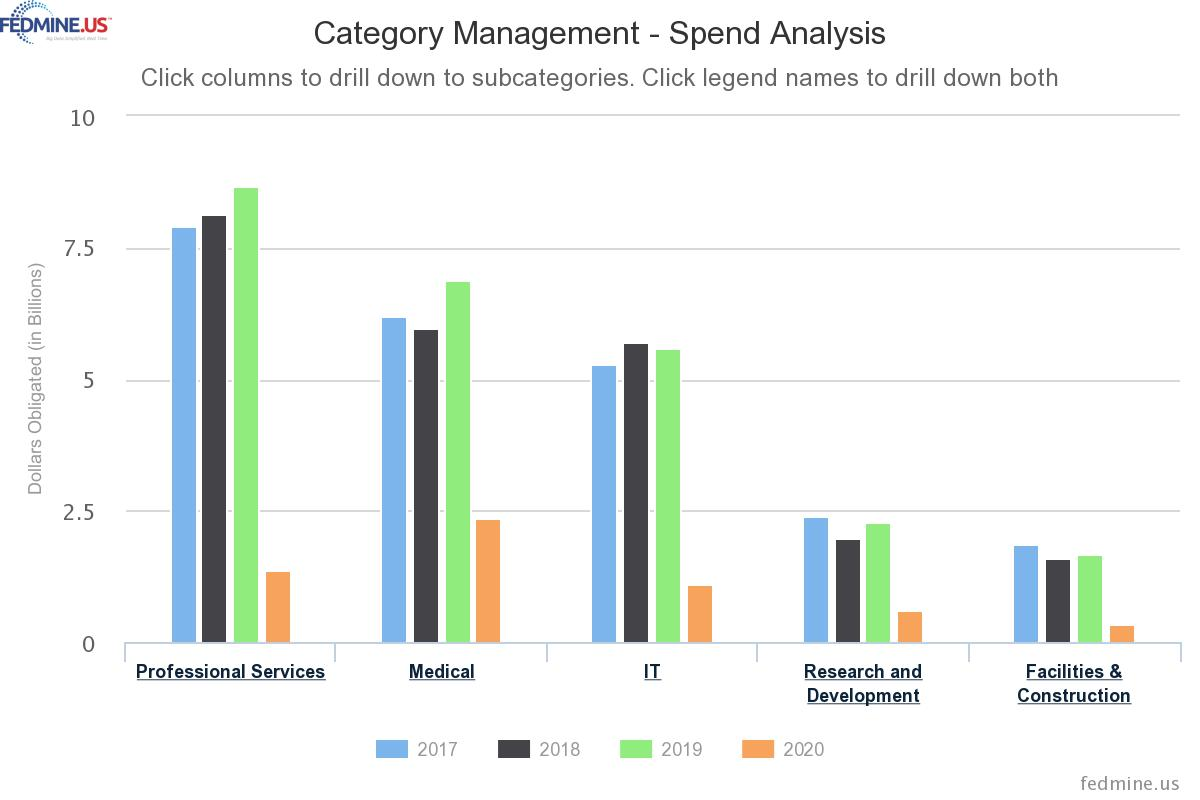 To get a top level summary I headed over to look at Category Spending. In the last few years, HHS Medical spend has been hovering around $6B. It's hard to know if the possibility of a pandemic will affect the total spend for HHS in Medical for FY20, but if I had to guess I would say that it most certainly will be over $6B this year.
It's really cool to see what information we can glean using Fedmine. With federal data integrated from 17 sources, there is a ton of historical information that you can use for informed decision making and even predicting what might happen in the future.