Federal Contracting Dollars and Women Owned Businesses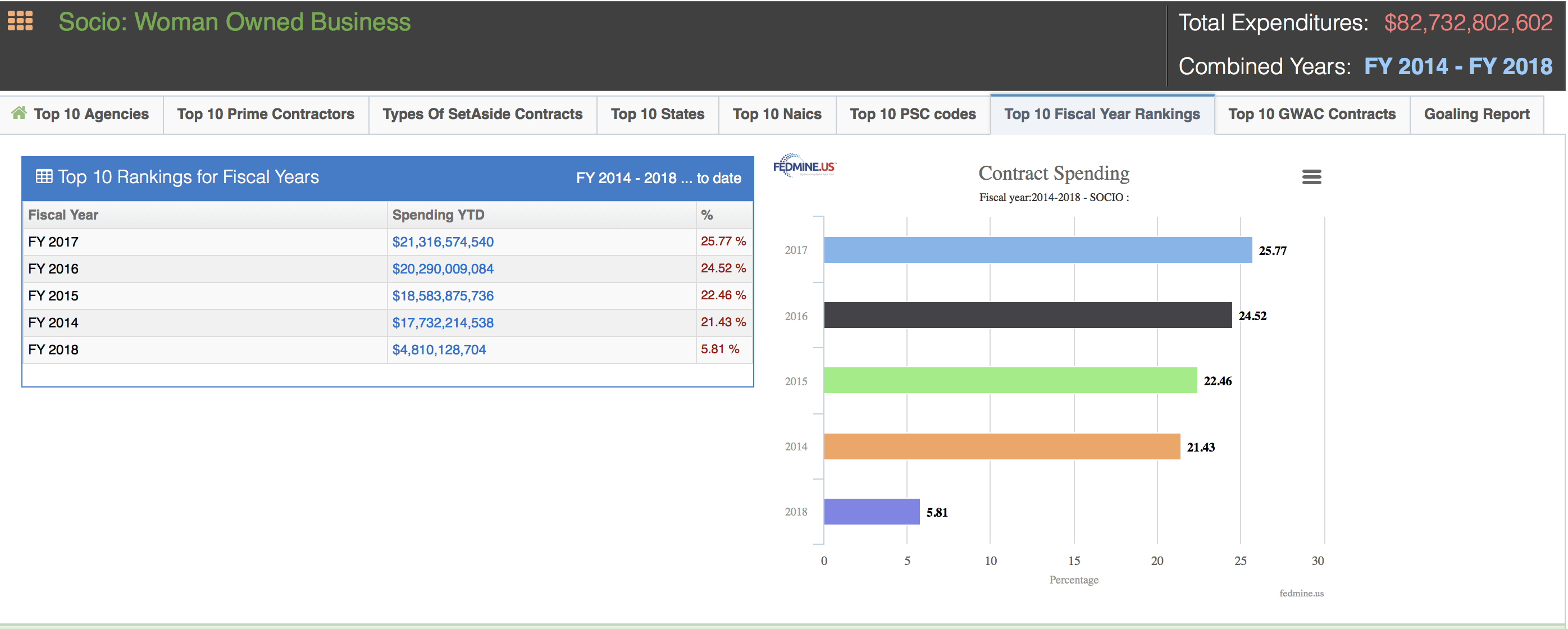 March is a time for us to celebrate the achievements of American women. Have you ever wondered how many federal contracting dollars are actually awarded to women-owned small businesses(WOSB)?
Surprisingly, during the preceding four years (FY 2014, 2015, 2016 & 2017), WOSBs averaged a mere $19 billion, a paltry 4% of the yearly total federal spending of roughly $500 billion per year. Digging deeper into the numbers, using our socioeconomic profiles, highlighted below are some interesting facts:
In FY 2014 only $17.7B was awarded to WOSBs, which increased to just $21.3B in FY 2017

Total contracts awarded to WOSBs in 2017 of $21.3B was a mere 4.25% of the total $511.4B federal contracts that were awarded in that year

The top awarding agencies to WOSBs were mostly defense agencies (Army, Navy, Air Force in that order), and HHS

In terms of set-asides, less than 2.5% was set aside for WOSBs while close to 20% went to 8(a) sole source/competed contractors

Commercial construction was one of the top the WOSB industry sector at $72M, while other NAICS codes were well distributed in the engineering, computer and research fields

FCN, Inc was the top WOSB contractor, followed by Aaski Technology Inc and

Actionet

Inc.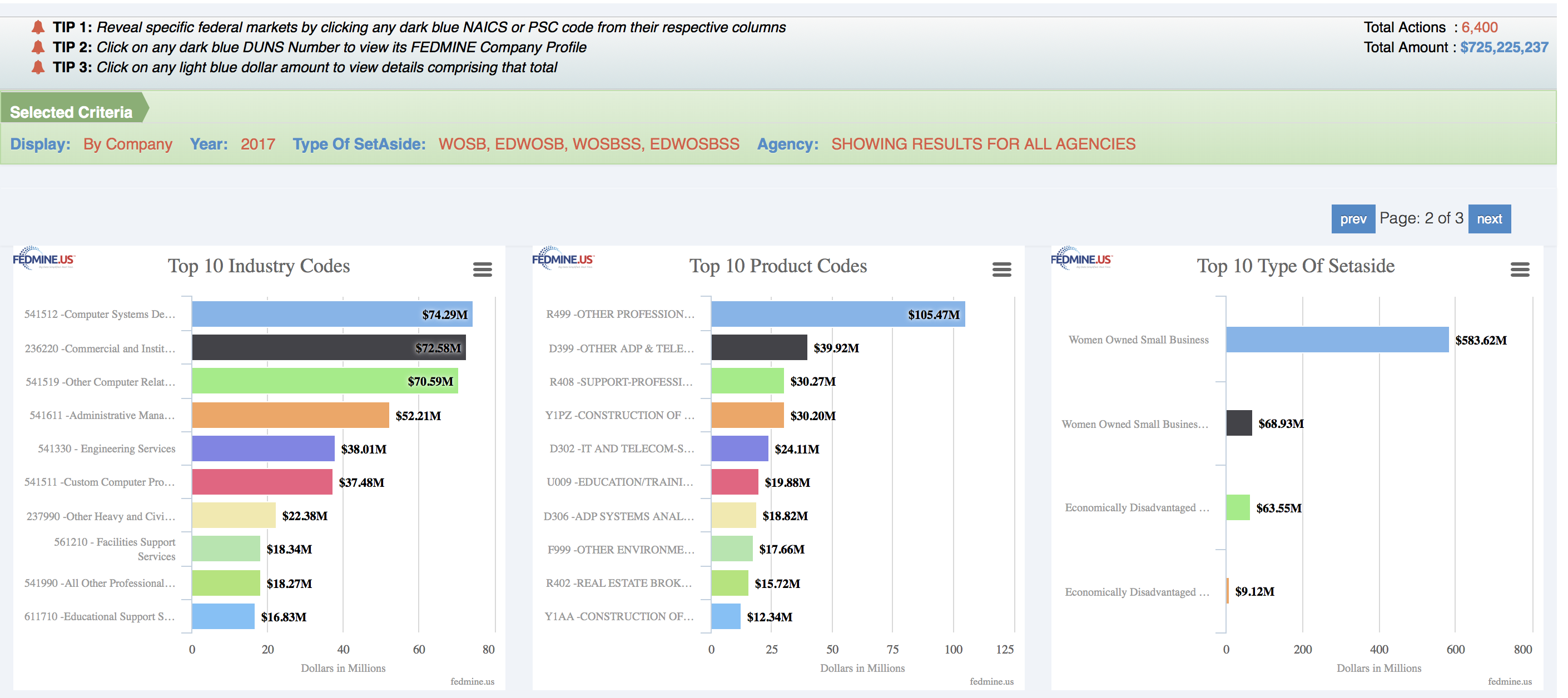 In FY 2017 WOSBs got more than $725M in set-aside contracts, however, let's look at the top 10 NAICS that these were awarded under (below) and you will notice that $291M were awarded under the 54 NAICS category - that is 40% of all WOSB set aside contracts, though $95M (13%) was awarded in the 23 NAICS code. Curious to see our socioeconomic profiles - click here.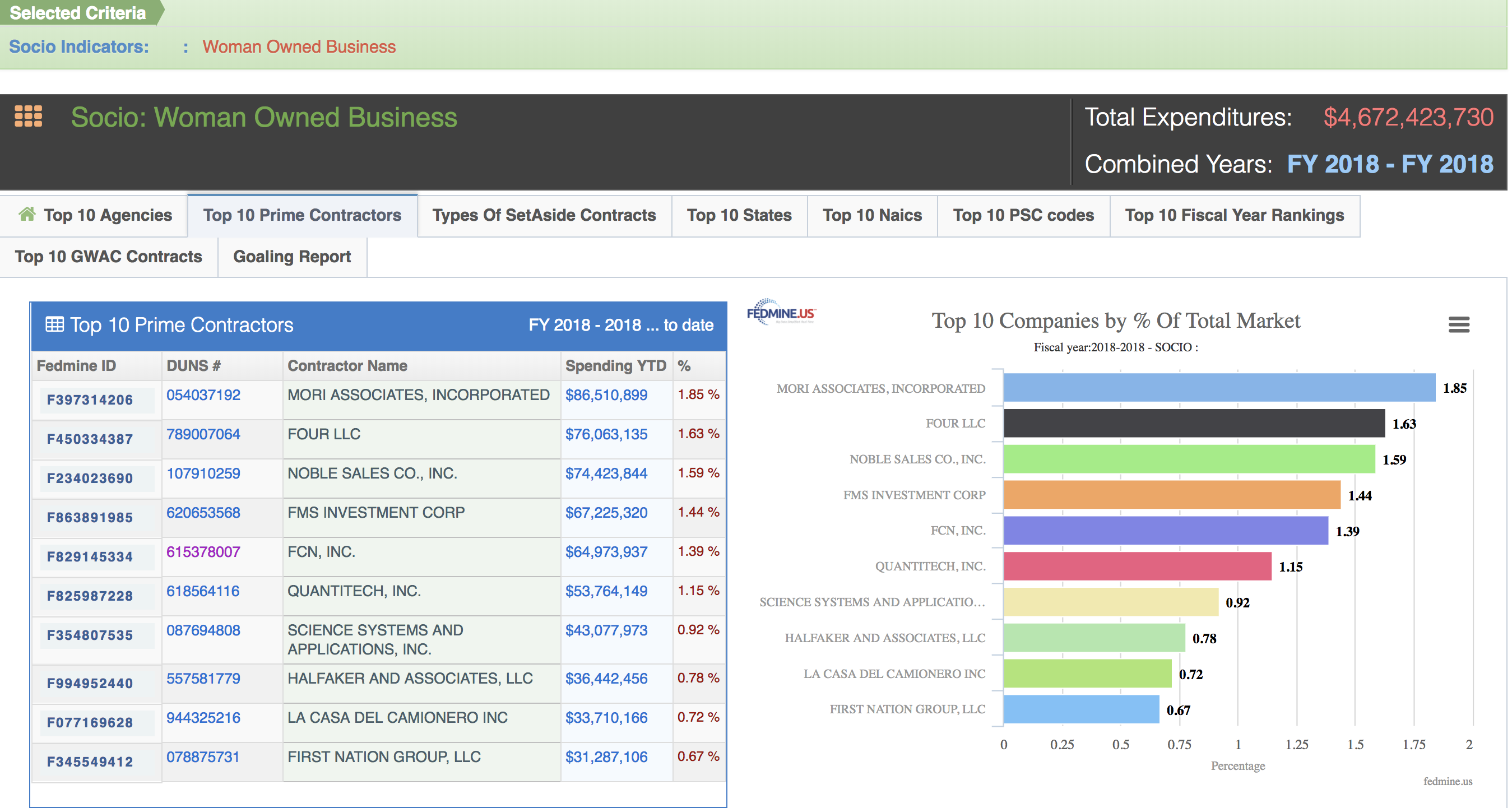 In FY 2018 there have only been $4.8B in awards to WOSBs thus far. The US Small Business Administration has updated their Women Owned Small Business Preference Program to increase the use of set-asides for women-owned businesses and the Women's Business Centers and PTACs are there to help our female entrepreneurs. My wish, this month of March, is that we see the share of dollars awarded to women-owned businesses grow rapidly over the next few years and it's not limited to the minimum % agencies are required to meet.