Let's Celebrate the Top-Woman Owned Businesses in Federal Contracting

Today is International Women's Day and I thought it fitting to celebrate the 19,003 Women Owned Businesses (WOB) that won $25B in federal contracts in FY 2019!

The top five companies are

FCN Inc
Four LLC
Blue Tech Inc
Noble Sales
Sterling Computers
Have a look at the 200 companies here.
Interesting to also see that the top 10 NAICS codes for the contracts won by these companies are in the IT and Construction/Facilities Support, and no surprises that the top states these companies are headquartered include Virginia, Maryland and Florida.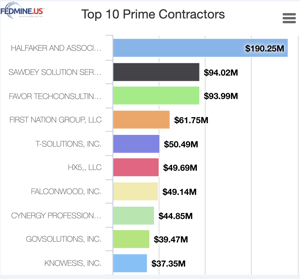 Of these companies there are 1,270 businesses that are also veteran-owned and have won a little over $2B in contract awards! Thank you not only for your service, but also for your leadership! Check out the top 10 Veteran Owned WOSBs (image on the left) which include Halfaker & Associates, Sawdey Solution, Favor Technologies, First Nation Group and T-Solutions!
While we celebrate these businesses, we should also point out that in FY 18 there were 20,787 companies that won $23.17B in federal contracts. While FY 19 has seen an increase in contract awards, the actual number of companies has fallen. This is a trend that we have noticed overall in federal contracting as mentioned in our blogs from FY 19. Hopefully we see it reversed in FY 20.
Congratulations to all our Women Entrepreneurs and Professionals - we look forward to seeing more successes in 2020 and beyond!