Federal Spending for FY2020

We are 4 days into Fiscal Year 2020 which is hard for me to believe — time is flying. What do the numbers tell us so far? Fedmine is the ONLY platform to provide federal spending data in real-time. We already have spending data for FY2020 due to our technology that integrates 17 federal data sources.
I ran a search to show numbers for new contracts and task orders awarded this FY and here is what I've found.
Total spending for new contracts and task orders is $1.31B with awards made to 2,623 companies
U.S. Department of Veterans Affairs leads the pack with over $1B in spending
Red River Technology LLC is the top Prime Contractor
The top 3 NAICS are 621498 (All Other Outpatient Care Centers), 541512 (Computer Systems Design Services) and 334516 (Analytical Laboratory Instrument Manufacturing)
Close to 27% of the awards have gone to small businesses
Here is a snapshot from Fedmine (click the here to view the real-time data)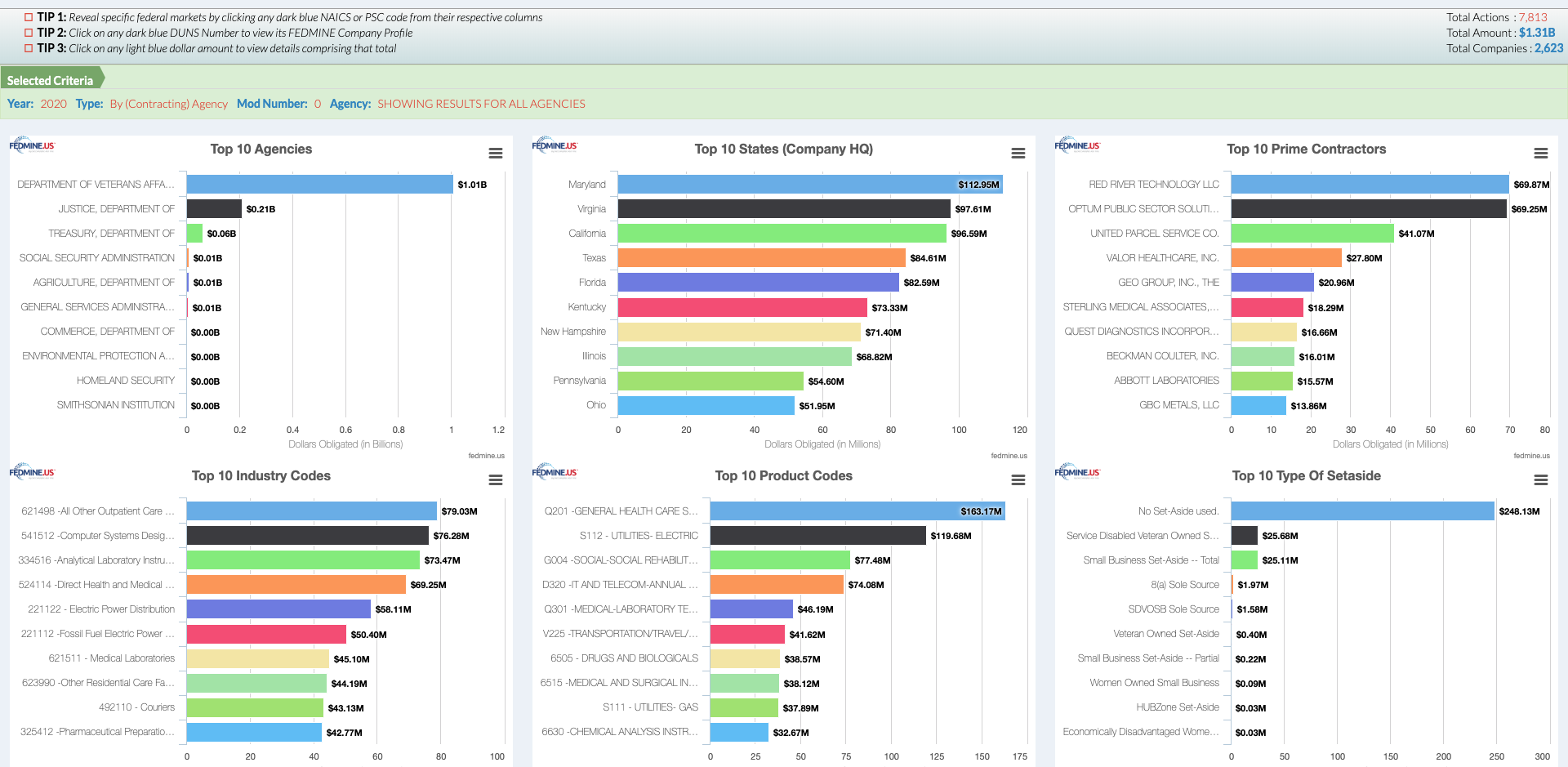 What does this FY have in store for us? Will VA continue to lead the pack with the most spending? — the Defense agencies will likely catch up as there is a 90 day lag in Defense reporting.
To give you an idea, last year the Navy spent the most ($89.36B), followed closely by Army and Air Force, with the VA landing at #8 as a top spending agency. Will we see a rise in awards made to small businesses? Will Defense spend the most again? Will the piece of pie continue to shrink as agencies are using contract vehicles more and more?
We will continue to monitor spending trends and more, so stay tuned!