Federal Spending for FY20

It's October 1st, 2020 and the start of the new fiscal year -I cannot believe that FY20 has gone by so fast. So much has happened this year with the pandemic, the hurricanes and the fires. Government spending has also changed with a projected deficit by the CBO of $3.3 trillion with federal outlays reaching $6.6 trillion. Federal contracts constitute a small amount of this outlay and as of 9/30/2020, reported federal contracts are $560.3B (note: there is a lag of up to 90 days for DoD spend). I actually expect the final year end numbers to be more than $650B based on the fact that in FY19 DoD awarded $110B in contracts in the last quarter.
Of the $560.31B that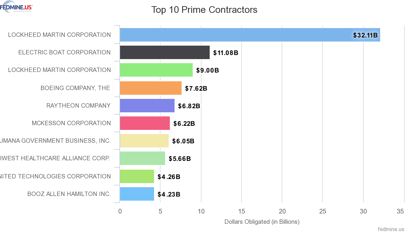 was awarded to 115,408 companies, approximately 79.9% were Other than Small Business contracts. Aircraft Manufacturing, Engineering Services and Ship Building were the top 3 NAICS codes that these contracts were awarded under. Lockheed, Electric Boat Corporation, Boeing, Raytheon, McKesson, Humana, Triwest Healthcare, United Technologies and Booz Allen were the top companies.
A total of $111.4B were awarded as small business contracts to 82,881 companies. Approximately $8.8B were awarded as 8(a) competed and sole source contracts, $5.7B as SDVOSB Set-aside and s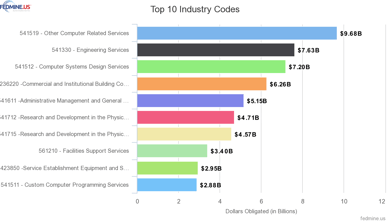 ole source. We do see a mix in the top NAICS codes with Computer Related Services, Engineering Services and Construction. In terms of the top businesses, Atlantic Diving along with Federal Resources Supply company, Modernatx, RER Solutions and Coin's N Things were the top 5.
So lets look at the spend of the top 25 agencies over the past four years: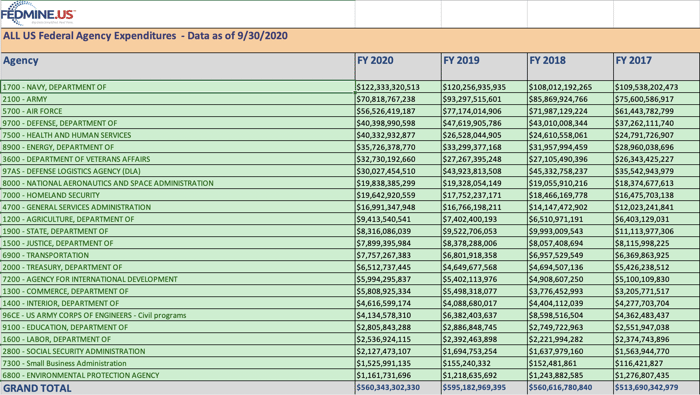 Data as of 9/30/2020, Source Fedmine
No surprises that the DoD agencies are very much on the list and the spend will increase as the awards for Q4 are made public. However, it is interesting to see agencies such as the Small Business Administration on the list with total spend of $1.5B compared to previous year spending of $155M. It seems that the SBA awarded $1.28B in contracts under the COVID-19 NIA code.
Have a look at the increase (and decrease) in contracts awarded by some of the agencies. While this change in spending is a direct result of the pandemic, in most cases, the change definitely has had an impact on the businesses that support them: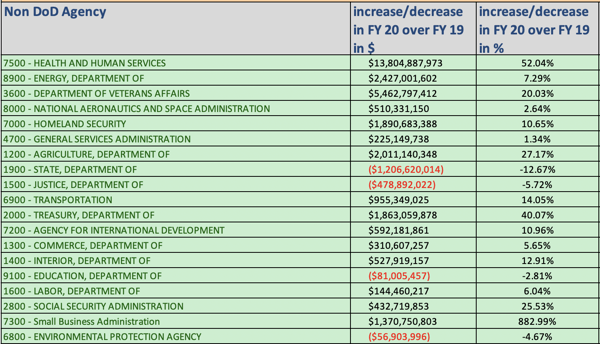 Under the National Interest Action Code of COVID 19, $29.42B was awarded in FY20 and is reflected in the increase in spending for some agencies such as HHS, VA, Homeland Security, Agriculture and SBA. These contracts were awarded to 8,630 companies with 27.6% being awarded as Small Business contracts. See the full report here

Curious to know the COVID 19 contracts awarded as small business? Click here for the full report (also check out our blog for our series on COVID and federal spending).
FY 2020 has been a year of change and I am curious to see how the final numbers pan out. I am hopeful that FY21 will see increased spending in efforts related to managing the pandemic and the natural disasters.
Stay tuned to Fedmine for all the latest federal spending!