Looking for Fed $ spent on Relief Efforts but unsure where to start?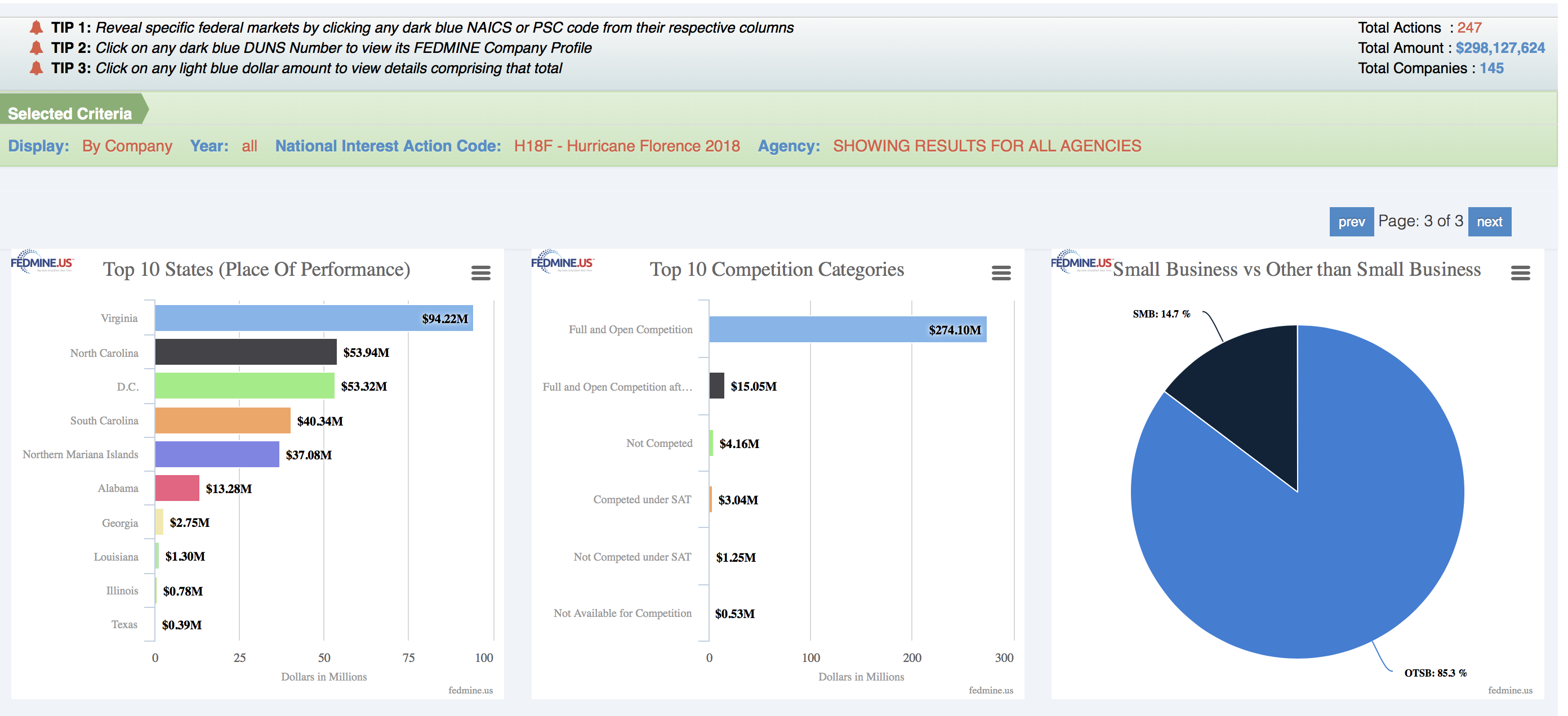 Natural disasters such as hurricanes Florence and Michael, often lead to a flurry of federal procurements to hasten relief efforts. For that reason, spending on emergency relief efforts tends to leapfrog standard procurement practices to overcome the time constraint a typical buying processes come saddled with.
All federal contracts are required to be competed fairly before being awarded to a contractor. However, many loopholes exist when spending is steered towards performing emergency work. But most contractors who want to get a slice of this hastened spending are not aware of the unique ways in which such relief efforts are tracked for monitoring and reporting purposes. In this blogpost I show you how to do exactly that.
All procurement actions for emergency relief work fall under a field within FPDS-NG data called National Interest Code. Each effort is given a unique national interest action code. So if you are wondering how much the federal government spent responding to hurricanes in fiscal 2017 & 2018 year-to-date, search no more. I have provided you with my analysis in the table below. It's only a peek into this abyss of spending, but for starters, more than $8 billion was spent during the fiscal period analyzed, however, only $2 billion or 25% of that went to small business contractors!

As of October 12th 2018, $298 million has been spent for relief effort under Hurricane Florence. General Dynamics has received $88 million contracts awarded, nearly 29% of the total contract awards so far, and it's no surprise that as of now, Homeland Security has awarded more than 95% of the contracts for relief.

Interestingly, only 15% of the total spending has gone to small businesses i.e $43.8MM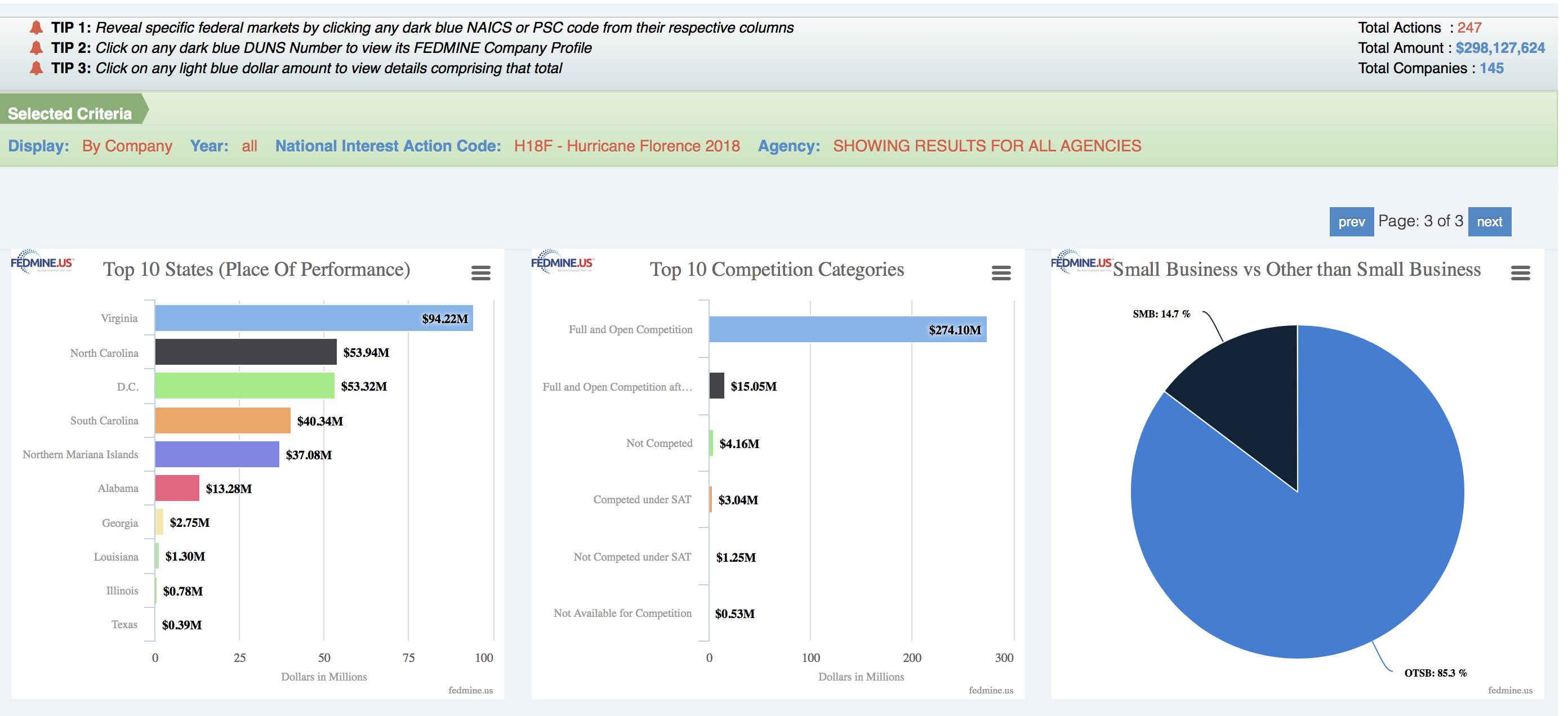 Have a look at the top NAICS codes below: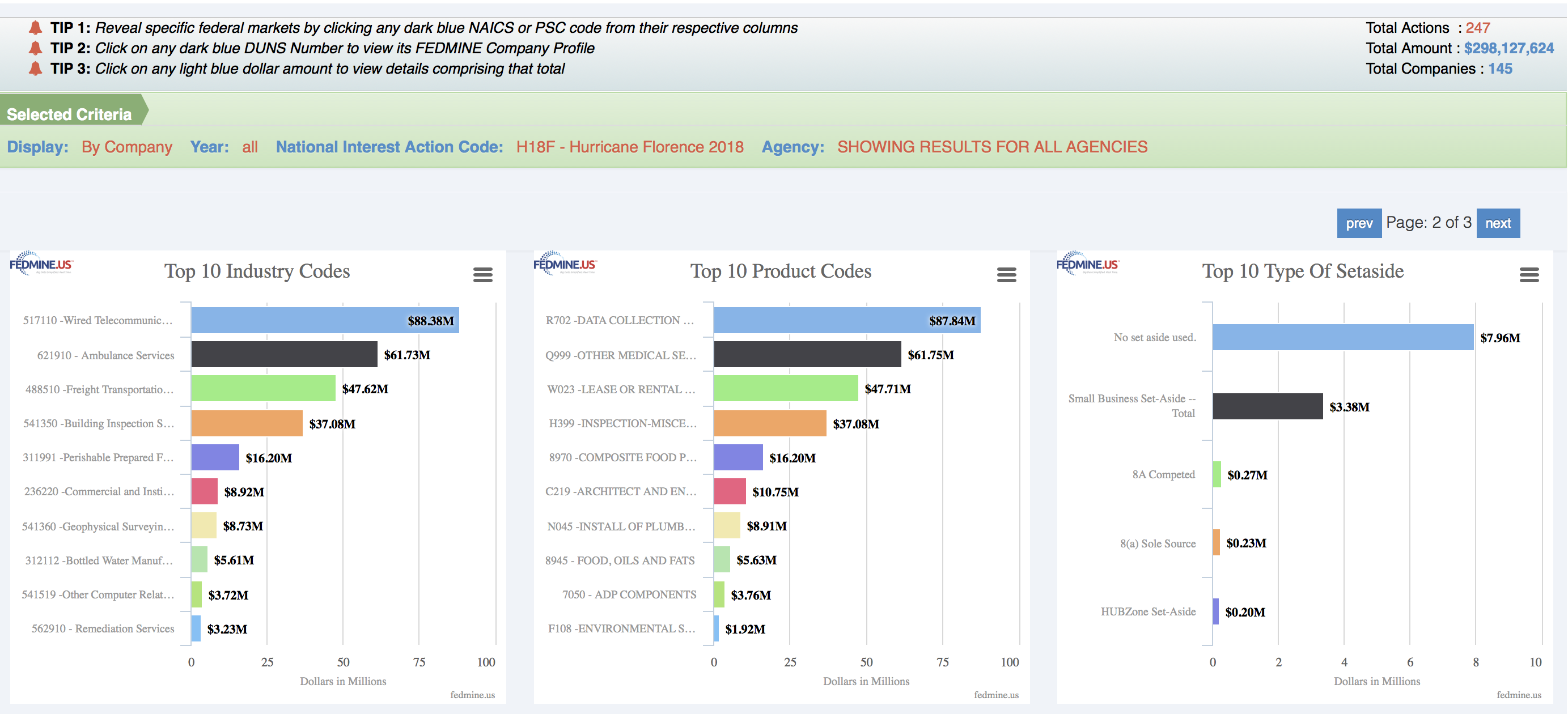 Wired telecommunications and ambulance services account for almost 50% of the spending. Interested in seeing the entire report including the list of contract winners? Click here!
As a small business that is able do the work needed for relief efforts, it is essential for you to understand how the dollars were awarded in the past. Did the agency use a BPA or IDIQ already in place, did they post the solicitation on FBO? Are there subcontracting requirements?
This valuable information can help you grow your federal business - all of this information is available in real time on the Fedmine platform.